H-ARTISTRY MAKE RETURNS IN 2010 WITH NEWER AND IMPROVE ELEMENTS!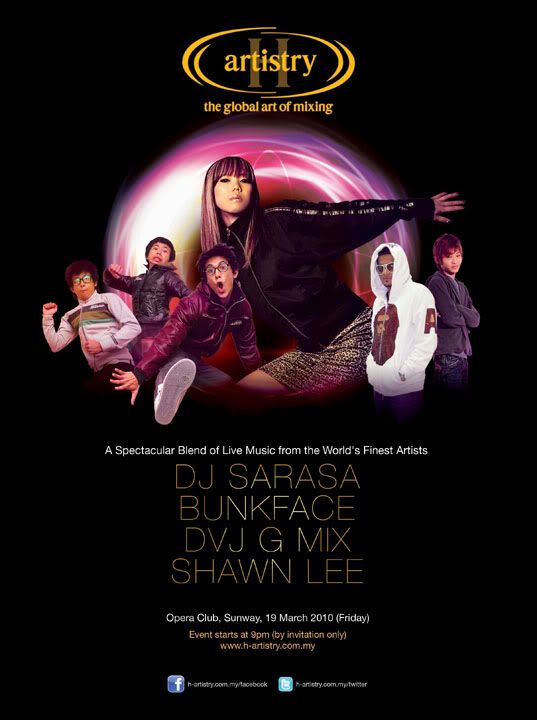 H-Artistry "The Global Art of Mixing"
is gearing up to hit the street again, with its 2010 curtain raiser all set to enthrall fans at
The Opera, Sunway Pyramid on March 19
, featuring FOUR NEW & IMPROVED zones :
Henessy Mix Master
Hennessy Mixing Bar
Hennessy Digital Light Effects
Hennessy Live Twitting Zone
For those who always wanted to be a DJ, fans would be guided by a professional DJ which will be helping them uncover their hidden talents and creativity in music producing in
Hennessy Mix Master
zone. Tracks will then uploaded onto the official H-Artistry website here where organizers will then select the top 20 tunes and reward the winners
with a bottle of Hennessy VSOP each!
The producer of the TOP RANKED TRACK will also be walking away with an
iPod Touch
.
Party goes can also expect
FREE FLOW
of Hennessy VSOP at the
Hennessy Mixing Bar
. Apart from its signature
Hennessy Apple
and
Hennessy Ginger
cocktails
, the upcoming H-Artistry party will also featured TWO BRAND NEW long drinks :
Hennesssy Citrus
and
Hennessy Berry
!
If you a are fan glued in to Twitter, Twitterers would able to update their status which will then be broadcasted live throughout the whole event in
Hennessy Live Twitting
Zone
.
Introducing the
Hennessy Digital Light Art Effects
, fans would be able to express their creativity and discover their artistic side as they create and design their own Hennessy VSOP desktop wallpapers using light technology and video projections.
On the music front, this time H-Artistry featuring Tokyo based
DJ Sarasa aka Silverboombox
. whose natural talent for music allows her to cater to any crowd, place and genre! This turntable kitten will bring The Opera down on 19th March with her blend of highly-energetic Hip Hop, Funk, Disco, Soul, Breakbeats and House music.
The
sillylily
Bunkface
this time is joining H-Artistry party. This local band first hit song
Silly Lily
was number 1 on Hitz.Fm's Malaysian Top Ten for 8 weeks! and now their popularity soared even higher with their latest single,
Through My Window
garnering more than 3.7 millions online mentions!
Also featuring
DVJ G Mix
, provide audience with hypnotic and head turning visual, was once performed as the closing act for the Bangkok Invaders and most memorably of course, as the guest DVJ at Korean Superstar Rain's concert VIP after party in KL.
Last but not least, our country small boy with big sound
Shawn Lee
also joining this big party this time. Shawn Lee, the First Malaysian Beatbox Champion, represtned Malaysia at the Beatbox Battle World Championship in Berlin and ranked number 9 in the competitions out of 45 contestants from 40 over countries.
So now, what are you waiting for?
H-Artistry is where music and cocktails find the perfect match. The blending of musical experiences provides the core essence, while Hennessy VSOP long drinks provide the evening's inimitable spirit to complete the distinct ultimate clubbing experience.
Logon to
www.h-artistry.com.my
to grab passes to H-Artistry party happening on March 19. H-Artisrty party is by invitation only.
Ans this event is strictly opened to non-Muslim guests aged
21
years and above only.
ID
verifications will be carried out at the door.
I was there at the last Artistry party, were you there?
I am gonna see you guys this time if you ever missed out any Artistry event :)
Till then, xx
kim